For years people in many different health and fitness related industries have been trying to create the ability to spot reduce body fat. The ability to reduce the specific fat around the abdomen or around the hips would be a tremendous accomplishment. However, it has always been understood that the idea of spot reduction is a fallacy. That is until Charles Poliquin created the revolutionary system called Biosignature Modulation.   
Photo Credit: Charles Poliquin
Charles Poliquin, the world-renowned strength coach, developed Biosignature Modulation over 20 years by comparing blood, urine, and saliva tests against the measurements taken by skin fold calipers. Through mathematical correlation he was able to find commonalities between certain skin fold ratios and hormonal levels or imbalances. Over time, through the study of endocrinology, Poliquin was able to develop nutritional, supplementation, and exercise protocols to address the various hormonal imbalances and, in effect, create the ability to spot reduce.
Hormones have a tremendous impact on individuals' daily lives. Not only do they affect health and well-being, but they also affect body fat levels and distribution of that body fat. Insulin's role in body fat storage is becoming increasingly understood. If there is too much insulin in the body then storage of unwanted body fat in specific areas of the body will occur. Beyond insulin the androgen levels in the body affect body composition, as does estrogen, cortisol, and the various thyroid and growth hormones. If any one of these is too far out of balance from the others, health suffers and body fat begins to be stored in less than ideal areas.
As each individual is unique in many different ways, so too is body fat distribution and the causes underlying that distribution. Biosignature Modulation allows each individual to assess their own potential hormonal issues through the analysis of their body fat ratios. The woman that has always been self-conscious of the high levels of body fat below the waist ("the pear shape") may come to realize that she suffers from elevated estrogen levels. The overworked executive may realize that the inability to lose that extra few pounds in the belly is caused by too much stress and the resultant elevated cortisol levels. Beyond simply understanding what is causing those nagging problem areas it is possible to develop protocols encompassing nutrition, supplementation, and exercise to address the specific issues.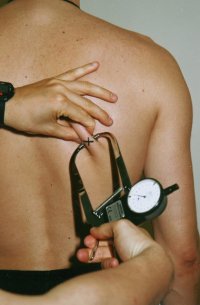 Photo Credit: Fitnesszone.com
Biosignature Modulation starts by a qualified practitioner measuring 12 different sites on the body by using high quality skin fold calipers. Once the measurements of each site are obtained they are entered into a mathematical algorithm. The algorithm determines how the various sites compare to the triceps, which is considered the reference site. Any site that has a poor ratio compared to the triceps signals a potential hormonal imbalance, or a "problem area." Once this information is obtained a program can be developed.
The first step in any health and wellness program should be the implementation of nutritional modifications. For example, an individual with an elevated suprailiac measurement compared to the triceps would want to limit the amount of grains and other high glycemic foods they consume. This is because the suprailiac set reflects the amount of insulin releasing foods an individual eats.
Once a nutritional plan has been developed it is time to address supplementation. The executive with extra belly fat and the corresponding elevated cortisol may want to add glycine to his supplementation protocol, especially post-workout. The woman with the estrogen issues, as signaled by excess hip fat, would want to use a supplement containing indole-3-carbinol.
After nutrition and supplementation have been covered, a specific exercise prescription will help focus on the individuals needs. Someone with an elevated kneecap skin fold will have issues with growth hormone production. That would necessitate a program consisting of 2-3 sets per exercise, 12-30 repetitions per set, 4-6 sets per muscle group, and a 30-60 second rest interval. That prescription will provide the appropriate stimulus for the body to increase its natural production of growth hormone.
Beyond nutrition, supplementation, and fitness prescriptions there are also general lifestyle modifications to be considered. Biosignature Modulation allows the practitioner to maximize the results obtained by their clients by measuring, the person's body fat, analyzing the ratios, and then providing a specific program for their client's issues. Once that is done the idea of spot reduction is no longer wishful thinking but a possibility with potentially quick and dramatic changes in body composition and overall well-being.